To insure the best performance of your Linkswell "Universal Double Din" T-Style radio system, we will always have the latest version of firmware available on this page.
FIRMWARE UPDATE FILES:
To update your systems Firmware:
Download the "Universal_D.D._T-Style_System_1.1.zip" file from the link above.
Extract the contents of the .zip file to your computer's hard drive.
Format a Micro SD Card to be sure that it is empty, then open the folder title "Universal_D.D._T-Style_System_1.1" and copy ALL of the following files to the root of the Micro SD Card

Turn the system on and plug the SD Card into the systems SD Card slot located on the lower left side behind the door marked Aux.
 After the system boots up go to "Settings" ->  "Other" -> "Update MCU" -> press "OK"

The screen will turn white and show a progress bar as the MCU updates.  After the MCU updates it will start the OS upgrade.
A second status bar will show and begin to fill as the OS updates.  When the update is finished downloading it will prompt you to remove the SD Card.

Remove the SD Card from the radio and turn the radio off and back on.
After you turn the system back on the update will begin to run.  Showing a screen with a circular arrow.

This may take up to 25 minutes to complete.

When the update is done running the system will reboot, and your system's firmware will up to date.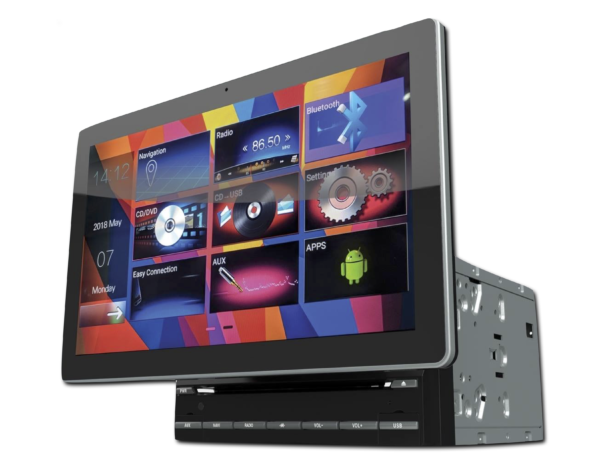 These Universal Double Din updates are for THIS radio.
ALL FIRMWARE UPDATES REQUIRE A FORMATTED MINI SD CARD AND ACCESS TO A COMPUTER. IF YOU ARE NOT CONFIDENT IN YOUR ABILITIES TO FOLLOW THE INSTRUCTIONS BELOW, PLEASE SEE YOUR AUTHORIZED LINKSWELL DEALER.

ALL UPDATES ARE DONE AT YOUR OWN RISK AND REQUIRE THAT YOU UNPLUG ALL ACCESSORIES CURRENTLY PLUGGED INTO ALL USB JACKS, INCLUDING THE WHITE CARPLAY DONGLE & DVR CAMERA.

ALL UPDATES SHOULD BE DONE WITH KEY IN "IGNITION" POSITION OR WITH VEHICLE RUNNING.